Top SIP Trunking Providers Of 2022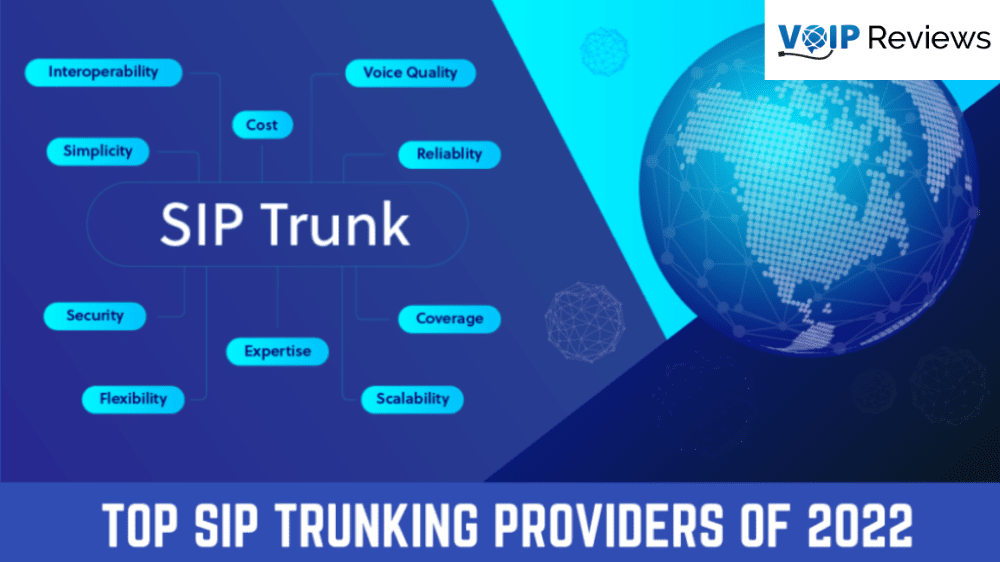 With the increase in the distribution of employees, the need for stability in their communication only increased. SIP trunking, a VoIP communication solution for calling over an Internet connection, is a solution many businesses turn to, ensuring that global employees and customers have reliable access to the company's communications.
What is SIP trunking?
SIP in SIP trunking is the Session Initiation Protocol, an Internet signaling protocol that allows Internet Telephony Service Providers (ITSPs) to deliver calls over an Internet connection. In this model of communication, an IP-enabled private branch exchange (PBX) system replaces old telephone lines and equipment. SIP trunking allows you to use the Internet to make calls to anywhere including legacy phone lines.
So how do SIP lines make online communication possible? In this model, the packet switching network splits the voice call into digital packets and sends them to a specific phone number over IP. These phone numbers may be related to other Internet or traditional phone users. However, only SIP-enabled connections require both users to have a phone number.
SIP is the only type of VoIP communication available in the business technology market. Still, it is generally considered one of the simplest VoIP models to launch and maintain.
Who needs SIP trunking?
Most modern businesses directly take advantage of the flexible communication opportunities that SIP lines and VoIP-enabled communications provide. Few enterprise users who are benefiting by making changes in their communication infrastructure:
Companies seeking to reduce traditional costs associated with hardware maintenance or phone service providers.
Companies are looking for the simple and relatively inexpensive digital transformation of internal and external communications. SIP trunking is easy to set up and teaches your employees how to use it compared to other VoIP and Unified Communications solutions.
Companies, especially those with vertical call centers, consider expanding their hiring base and locations. SIP trunking enables employees to make company calls from anywhere, making it easy for the company to travel frequently with world visits and SIP calls.
SIP's software and Internet-enabled approach make it easier to sign up for the pay-as-you-go model rather than investing heavily in telephone hardware and services.
Top SIP service providers
SIP trunk providers offer various services that you can customize for a small business or a large global organization. In addition, since most of these vendors focus on voice calls, many offer embedded solutions or integration opportunities for other video conferencing and business communications categories. Here are the eight best SIP trunk vendors that cater to customers with diverse management, compliance, and safety requirements.
1. 8 x 8
8×8 is a SIP trunk provider that helps customers deliver their cloud migration and global customer support needs. Although they offer global solutions, their flexible pricing plan offers customers local and national options.
Features:
Easier migration with dial plan mapping, shortcodes, and automatic failover.
The global network of Tier 1 carriers to provide complete PSTN replacement
Single administrative interface for user provision, system configuration, and management
Manage calls via ring group, call monitoring, and call queue
Multiple level auto-attendant facilities are available
2. Intratel
Intratel provides Internet telephone communications / VoIP systems and solutions. They utilize innovative and full-service capabilities to deliver your business with reliable, affordable, and exceptional telephony solutions. Intratel network is 100% operated in Tier- 3 Canadian Data Centres. 
The automated attendant answers the call simultaneously, permitting the caller to quickly connect to the appropriate extension using the voice menu system, which means that the phone lines are not busy. Moreover, if nobody is available to receive the call, the call can be queued up or passed to voicemail. Therefore, there is no necessity for a call centre with a virtual receptionist in Canada in another time zone.
Features:
call flow management
ability to answer more calls
Minimize the hold time for callers
Improve customer experience
Cost savings
You can understand additional information about available features and plans in our intratel review.
Essential SIP trunking features
Each SIP delivery vendor takes a slightly different approach and emphasizes various platform features. But if you're looking for a SIP connectivity solution, make sure the following features meet your organization's needs:
Platform Interoperability: 
Suppose you choose a solution that includes only basic communication features. In that case, you may want to check out API capabilities and integration opportunities that enhance your connection with other communication and analytics platforms.
Real-Time Availability: 
It makes the difference in determining how well your organization interacts with particular customers. Find solutions that provide near real-time analytics for call logs and other data.
Data Security and Compliance Features: 
Many industries have strict requirements regarding the release of consumer data, and leaked phone calls can easily lead to hefty fines and other legal consequences. If this applies to your industry, look for SIP solutions that focus on data security and align with compliance regulations such as the General Data Protection Regulation (GDPR).
Built-in Automation and Monitoring Features: 
Deployment and ongoing maintenance can be challenging, especially for small teams with limited internal technical knowledge. Many SIP trunking providers offer automation and monitoring features that make it easy to manage initial setup and current support for VoIP systems.
Enterprise Benefits for SIP trunking
Properly implemented, SIP connectivity enables a wide variety of new business environments and communication opportunities. Here are some key benefits of using the SIP trunking:
Flexible Work Environment
With SIP trunking, Internet-supported connectivity allows users to access company communications from wherever they have Internet access. Especially as the number of employees is increasingly remote and expanding into new global areas, SIP trunking allows employees to stay in the loop.
More Call Quality
The SIP trunking is Internet-based than local phone service, so SIP-based communication is more reliable; It mainly depends on your internet connection, which is less likely to be affected by regional or provider issues. Many users reported higher voice quality and lower call rates after switching to SIP trunking.
Low Maintenance Costs
Although initial deployment and other setup requirements may be challenging for some SIP trunk users, long-term maintenance costs for this type of connection are much lower than for older telephone setups. Since many VoIP delivery models are set up to work with smartphones or phone software running on the Internet, companies handle traditional phone hardware maintenance and costs over time.
Unified Communications Opportunity
Traditional phone services offer a bit more than voice and some messaging capabilities. But with SIP trunking and other VoIP connections, additional communication carriers are added or provided through integration with other communication applications. SIP trunking is one of the many modern business communication solutions that allow people to communicate in new ways, such as video calling and remote conferencing. With users now able to choose from a wide variety of Internet-based connections, companies have more opportunities to communicate in ways that best serve their distributed employees and customers.