Average Ratings
46 Reviews
Starting Price
CA$21.95 (5 user min.)/Monthly/User
Pricing Details
Talk to sales at: (888) 411 6073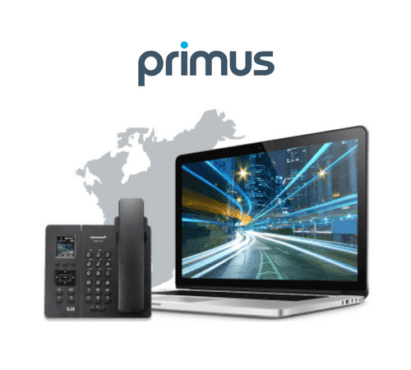 Primus Business Phone Review
About Primus Canada
Twenty years ago, Primus began as a communications provider headquartered in Canada. They provide communication options to Canadian customers, businesses, and wholesale customers. As a digital phone service (VoIP) provider, they offer the following services:
Internet and network
Voice
Cloud-based phone systems (Hosted PBX)
Unified communications
Business phone bundles
Primus Business Phone Plans & Pricing
► Hosted PBX
Hosted PBX uses IP connections that allow businesses to make calls over the Internet. There are three ways to do this. It can transmit data over the public telephone network (PSTN), the Internet (it helps with VoIP technology), or both.
Features:
Online Portal
Auto-attendant
No call missing
Mobile Integration
Optional Call Centre and Call Recording
Hosted PBX Pricing:
The pricing of hosted PBX starts from CA$21.95/mo/user with a minimum of five users.
► Unlimited Business Bundle
The business bundle is a common strategy for various corporations to increase the business's overall revenue and attract customers.
It includes:
Business Internet
Download up to 75 Mbps, upload till 15 Mbps
Dynamic IP Address
Rental wireless Modem
Dry loop line.
Hosted phone system
A Major Phone Number
30 calling features
Phone set, analog phone adapter, phone app
Email
Five primus.ca email accounts
Webmail
Anti-spam and Anti-virus protection for email
Unlimited Business Bundle Pricing:
The pricing of the unlimited business bundle starts from CA$87.90/month.
Pros
If you do not prefer a contract, you have the option of subscribing to a monthly plan.

Each plan has unlimited data, so you don't have to worry about growth and additional costs.

You will not pay an activation fee.

Combined packages are available to meet the needs of each residential and professional user.

Customized corporate packages are provided with customized internet services.
Cons
Pricing and plan availability may vary by location, which can be annoying if you live where the company does not provide the coverage you need.

Users can expect to cover installation and modem charges. However, this cost is not mentioned when signing up for membership.

Add-ons like Internet Security and Wall-to-Wall Wi-Fi are not provided.

Primus plans are usually more expensive than other providers.
Editorial Verdict:
Primus Canada provides real-time connectivity services to customer accounts. It eliminates the burden of owning a traditional phone system and offers business-oriented solutions.
They provide home, business, and wholesale services at different prices. 
FREE VoIP Quote in minutes!

Just a few more questions...

Let's get your name right.

We are preparing your quotes.
Get FREE VoIP Quote in minutes! Fill the details below
Just a few more questions...