Average Ratings
78 Reviews
Starting Price
CA$19.95/Monthly/User
Pricing Details
Talk to sales at: (866) 409 8647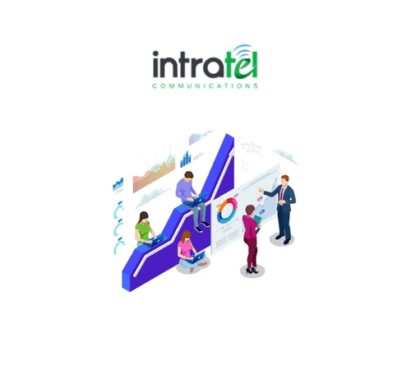 Intratel Business Phone System Reviews, Features & Pricing
About intratel
Intratel is a provider of Internet telephone communications / VoIP systems and solutions. They use innovative and full-service capabilities to provide your business with affordable, reliable, and specialized telephony solutions. Intratel's network is 100% owned and operated in Tier 3 Canadian Data Centres. 
Intratel VoIP System Features
Toll-Free Numbers
Toll-Free numbers are free virtual numbers that allow you to call many callers worldwide. This number helps companies establish their legitimacy when using it as a helpline so that customers can access it for free.
Call forwarding
Call recording
Voice mail to Email
SIP Trunking
SIP Trunking
SIP trunking enhances the reliability of your phone. If the VoIP telephone system fails, the intratel service can move to another line, allowing business to continue without interruption.
Fully customized
Toll-free numbers
In house call conferencing
Call recording
Web-based PBX Management software
Fully scalable
PBX System
Manage and monitor your in-house PBX phone system using Intratel's web-based PBX management software. You can automatically configure or upgrade your phone system using PBX Manager and Device Monitoring.
Provision new phones
View call detail records (CDR)
Manage call recordings
Setup IVR/voice menus
Control call forwarding/follow-me features
Business Voicemail
Access your voicemail notifications anytime, anywhere via Email.
If you are not available in the vicinity of your phone or unable to reply, the caller will be greeted by your personalized answering service and asked to leave a message.
Unlimited Canada and US calling
Advanced call management
Web management
Document transition and conferencing
Per extension voicemail
Find me and follow me
Virtual Receptionist
The automated attendant answers the call simultaneously, allowing the caller to easily connect to the appropriate extension using the voice menu system- this means that the phone lines are never busy. Furthermore, if no one is available to take the call, the call can be queued up or sent to voicemail. Therefore, there is no requirement for a call centre with a virtual receptionist in Canada in another time zone.
Ability to answer more calls
Call flow management
Minimize the hold time for callers
Improve customer experience
Cost savings
Call Recording Software For Business 
Automatic call recording is available for both incoming and outgoing calls. It's easy to set up and manage, and recordings can be played or downloaded at any time.
Call recording
Live coaching/listening on live calls
Web-based management software
Real-time queue monitoring
Advanced call centre metrics.
Phone extensions
Multiple extensions are possible on one phone line- This makes it easy for one person to manage multiple extensions in business.
Reduce hiring cost of a full-time receptionist
Include pre-recorded messages with business hours, location, services.
Calls/directing calls to the appropriate department
Minimize hold time for callers
Enhance internal communications between employees
Video Conferencing
Intratel offers business-grade, fully integrated, secure video conferencing solutions.
Securely hosted in Canada on Intratel's servers
Fully integrated into our voice solutions that allow call/order invitations
Participants can be any combination of video and audio
Screen Sharing / Hand-Raising Features
Up to 100 participants
Intratel Business Phone System Plans and Pricing
► Entry Level
CA$19.95 per user per month
Up to 10 users
Includes 1 Local Line
Unlimited Calling in Canada
IVR / Voice Menu Auto Attendant
3.5 Cents / Minute USA Calling
Call Waiting / Music on Hold
Caller ID
Call Forward Always / Busy / Selective
Find Me / Follow Me
3-Way calling
Call Blocking
Do Not Disturb
Supervised / Blind Transfers
Busy Lamp Field
Voicemail to Email
► Business Standard
CA$24.95 per user per month
Scales to Unlimited Extensions
Customized IVR / Voice Menus / Auto Attendant
Unlimited USA / Canada Calling
Free Desktop App
Toll-Free with 250 Minutes
Free Mobile Softphone Apps
Call Parking
Call Waiting
Customized Music on Hold
Call Recording Add-on Available
Call Queuing
Hunt Groups
Web Portal Call Logs
Directed Call Pickup
Caller ID
3 Way Calling
Voicemail to Email
Extension Monitoring
Web Provisioning
Multi-Point Redundancy Built In
► Business Premium
CA$39.95 per user per month
Scales to Unlimited Extensions
Free HD IP Phone Rental
Free Mobile Softphone App
Video Conferencing
Customized IVR / Voice Menus
Unlimited USA / Canada Calling
Call Parking
Call Waiting
Customized Music on Hold
Call Recording 
Toll-Free with 1,000 Minutes
Business SMS
Digital Fax 
Call Queuing
Advanced call handling -
whisper, barge, etc
Digital 2-Way Faxing
Caller ID
3 Way Calling
Voicemail to Email
Extension Monitoring
Web Provisioning
Multi-Point Redundancy Built In
Pros
Canadian based company
Long list of optional extensions for customization
Local data centres
Competitive pricing
Editorial Verdict
Business VoIP phone lines utilize telephone and Internet technologies to deliver enterprise-grade features to small and medium-sized businesses. Moreover, you can rely on Intratel to free yourself from the costly phone system.
FREE VoIP Quote in minutes!

Just a few more questions...

Let's get your name right.

We are preparing your quotes.
Get FREE VoIP Quote in minutes! Fill the details below
Just a few more questions...