Average Ratings
53 Reviews
Starting Price
CAD 17.11 (Business)/Monthly/User
Pricing Details
Talk to sales at: (855) 711 8647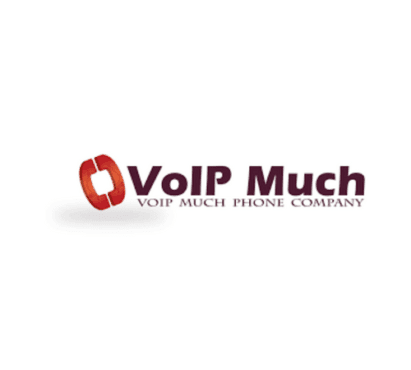 VoIP Much Phone Company Reviews
About VoIP Much
VoIP Much is a private internet phone company that delivers phone services to home and business customers over a broadband internet connection. They have experience of over 20 years in handling both Telecom and Information Technology. Since they use their infrastructure and peer with numerous carriers worldwide, they can ensure the quality of phone services they provide.
VoIP Much System Features
More than 30 calling features are available at VoIP Much.
Voicemail Enhanced
Voicemail message
Storage of 21 voice mail messages with SOHO accounts
Storage of 50 voice mail messages with business accounts
Voicemail anywhere with VoIP Much Access numbers
Voicemail online
Voicemail to Email
Voicemail notification
Calling features
Free Canada/ USAcalling
Incoming and outgoing caller ID
Outbound caller ID
Three-way conference calling
call waiting caller ID
Call forward busy/ No answer
Call blacklist
Call hold
Call screen
Anonymous call rejection
Do not disturb
Outgoing international long-distance block
Detection of ATA (Analog Terminal Adapter) device and automatic forwarding 
Speed dial
BYOD
In-network calling
Long-distance calling at a low rate
VoIP Much Softphones
Run many systems- Android, iOS, Mac, Web browser, Windows
Clone devices can be added.
VoIP Much Access
Access voicemail
Place an outgoing call from the account
Virtual Fax Number
Dedicated number for faxing
PDF conversion and forwarding
Online fax control panel
Virtual City Number
The secondary number on a primary line
Worldwide availability
Conference Bridge Features:
Mute/unmute line
Lock / unlock the conference
Eject the last caller who joined
Extend conference 
Increase / decrease conference volume
Increase / decrease microphone volume
Music on hold while waiting for the moderator 
Announce total count (optional)
Announce join/leave (optional)
Join/Leave tones (optional)
Record Conference
SIP Trunk Features
Compatible for direct deployment with a majority of IP PBXs.
Compatible with TDM PBX or legacy CPE phone system using an IAD or IP media gateway.
Customization with add-on features.
Free Canada / USA Calling
Multiple codecs supported
VoIP Much Phone System Plans and Pricing
Home Phone Service- CAD 9.45/month
Keep your existing number
Free Canada / USA calling
Incoming local number (DID)
VoIP adapter
Over 30 calling features
Business Phone service - CAD 17.11 per month
Keep your existing number
Free Canada / USA calling
Incoming local number (DID)
Over 30 calling features
Conference calling
VoIP Much provides conference calling at a low price for local North American and toll-free numbers. Also, International Toll and toll-free numbers are available in many countries worldwide.
The Standard Plan
Rate: CAD 0/month, 4cents/minute (per caller)
No contracts
No per conference fees
No maximum call lengths
North America Toll calls for major cities
North America Toll-Free calls
International Toll and Toll-Free numbers are available
Ranges from 2 to 20 participants
Up to 10 Conference Bridge PIN codes included
The Enterprise Plan
Rate: CAD 10/month, 3 cents/minute (per caller)
Includes all features in Standard Plan
Your conference bridge greeting
North American Toll-Free Number 
Your music is on hold (when waiting)
Up to 500 participants per conference
Unlimited unique Conference Bridge PIN codes
Detailed billing by PIN code
Record a conference
Simple SIP Trunk pricing:
CAD 17.11 per channel
100+ channels
Virtual PBX pricing
CAD 17.11 per user+tax
monthly rate for 2 users (extensions) would be CAD 34.22 /month +tax.
Toll-Free Numbers are CAD 1 each /month plus CAD 0.03 (3 cents) /minute usage.
Virtual City Numbers and Virtual Fax Numbers are CAD 2.45 /month per number. 
Clone Accounts are CAD 1.45 /month per device
Pros
Easy installation
Excellent call quality
No need to replace existing wireless handsets
Cons
The self-service portal lacks some features but serves the basics.
Editorial Verdict
VoIP Much provides solutions to match your needs, whether you're a small company, a mid-sized organization, or a large enterprise. Their communication systems are easy to set up and manage. They include an entire suite of communication tools, an interface, high-definition voice calls, top-rated support teams, etc. It also allows users to take the best features of VoIP Much into their everyday business applications and devices. Integrating VoIP Much into critical business programs will enable employees to save time, simplify communications, and maximize productivity.
FREE VoIP Quote in minutes!

Just a few more questions...

Let's get your name right.

We are preparing your quotes.
Get FREE VoIP Quote in minutes! Fill the details below
Just a few more questions...