Average Ratings
79 Reviews
Starting Price
CA$25/Monthly/User
Pricing Details
Talk to sales at: (866) 409 8647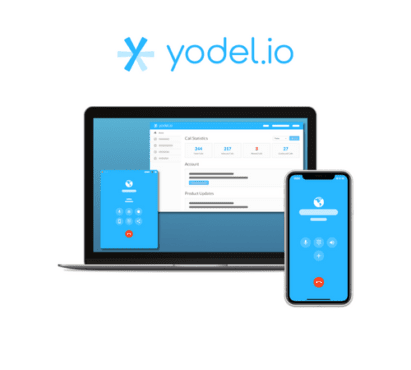 Yodel Business Phone Reviews
Yodel.io is the industry's leading cloud based business phone system with businesses in over 140 countries, and solutions for agencies, customer support and remote teams. Their fully hosted virtual PBX works wherever you have internet access and supports over 20 languages. Yodel is a real-time communication platform for businesses. Yodel has a community of over 100,000 users and can be integrated with Slack. The integration of these two platforms allows for better collaboration between employees and customers. Yodel.io sends your emails from any device and from users' browser with no setup, no configuration, no programming required. With their easy-to-use interface and extensive integrations, users can send and track emails using almost any system.
Yodel.io Features, Plans & Pricing
Solution for customer service
Record customer calls and automatically transcribe them (even if they're angry).

Work with your entire team through a central interface without any tech-savvy or IT skills required.

Easy to use web interface with browser extensions to allow easy call handling from anywhere on the web, as well as clickable phone numbers that launch your favorite app.
Global call center
International phone number to call from any country.

Toll free numbers for bulk subscription rates and international reach.

Unlimited concurrent calls, welcome message, voicemail, office hours, ring groups and conferencing.

Call log with text message(s) log for record keeping and management.
Call transfer between calls with seamless ease of use and no interruption in service or sound quality on either side of the call.
Gather the call
Transcribe voicemails to text, email, or fax with one click

Monitor your calls in real time with the widgets.

Forward your incoming call to speakerphone or another phone, so you never miss a call again.

Boost your productivity and have all of your contacts synchronized in one place.

Call recording is available on the free plan and will allow you to replay video calls with just one touch.

Reports and callwhispering/commenting/filters are available as premium features that can help

Easily add shared contacts for easy communication with family and friends.

Block unwanted numbers from receiving your messages to keep your phone clean.

One-time payment, no subscription or hidden fees!
Stay connected
Receive desktop notifications on the go.

A user-based notification system which works on your social media profiles, email, and all accounts you have linked to FireChat.

In-app forwarding from one account to another with up to five phones numbers or email addresses.

Integrated Chrome Extension and Firefox Extension for seamless account access.
Stay in touch without being tethered
Get constant updates on all your communications, even when you're offline.

Be able to talk back and forth with friends or co-workers from anywhere.

Talk to a computer in a natural voice and see it as text in real time, so you can have conversations via text message without typing!

Monitor your communications with live activity feed and CRM integration.
Make secure, private calls
Connect to a global network of users and call them from anywhere.

Receive a phone call and know if your online connection is reliable enough for your calls to go through

Secure calls with all data encrypted and sent over a secure, private connection.
Pricing
The Premium Plan of Yodel.io is $25/month for a single user.
Promote your phone experience by offering a rich contact center with brand-safe features to your callers.

Incredible support for a variety of communication channels, including web phone, email, IVR and more.
Premium Plus pricing  is $35/month for single user
The best of the best. Over 30 integrations and 12 months of 24/7 support.

Get your team up and running with ease — no special coding skills required!

Plus, get access to our exclusive webinars and ASO training videos for your business.



Premium Plan offers
One standard number per user

Unlimited Inbound calls to any US and CA landline and mobile, including 800 numbers

Unlimited Inbound and SMS Outbound + Toll Free numbers US / CA

Fast "number porting" feature that allows you to move your number between carriers, giving you the ability to switch providers easily
Premium Plus offers
One number per person, so you have a back-up in case your primary line gets disconnected.

Easily transfer your number to a new number if you're switching providers or moving to a new phone.

Porting numbers to use with international travel makes it easy to still stay connected while on the road.
Outbound calls US / CA to any international number for only $4.95 / month*

Unlimited Outbound SMS US / CA, Outbound SMS worldwide

Receive unlimited credits with every purchase, used in any messaging plan.

Use credits in any plan: our plans are either $5 or $10 per month and free for the first 30 days
Both the plans provide
No more back-and-forth, just send a chat and get your questions answered right away

Stick to your schedule and be available 24/7 with timezone support - great for international clients.
Video Conferencing
Intratel offers business-grade, fully integrated, secure video conferencing solutions.
Securely hosted in Canada on Intratel's servers
Fully integrated into our voice solutions that allow call/order invitations
Participants can be any combination of video and audio
Screen Sharing / Hand-Raising Features
Up to 100 participants
Pros
Includes a huge variety of features from personalization to voice-to-text dictation.
A powerful call-screening tool that helps identify and block potential clients, partners, and sales calls
Working on Windows apps, so this might be more easily managed in the near future.
Cons
The process of answering / forwarding a call can take a long time, this problem occurs when the phone rings.
Incoming calls gets dropped off frequently, which can cause damage to the reputation of the business user.
The integration with slack is buggy with yode.io whereas in RingCentral, intratel COMMUNICATIONS and primus, the slack method is not buggy.
Alternatives to Yodel VoIP Service in Canada
Here you will find the best alternatives to yodel.io with some unique features that yodel.io is not providing.
Intratel Communications
intratel Communications' web-based PBX management software is an easy-to-use solution for managing your on-premise phone system. Keep your phone system running smoothly with the automated configuration and upgrades. Intratel Communications is a next-generation phone system that gives you the power to manage your enterprise telephony from anywhere. Intratel's intuitive web-based console allows you to provision new lines, view CDRs and call recording history, seamlessly integrate with IVR/voice menus, and more.
Primus
Business VoIP phone lines utilize telephone and Internet technologies to deliver enterprise-grade features to small and medium-sized businesses. Moreover, you can rely on Intratel to free yourself from the costly phone system.
8x8
8x8 is a next-generation customer service platform offering speech analytics and artificial intelligence data from every transaction, customer support through speech analytics, automated customer service, and accelerated artificial intelligence deployment.
RingCentral
RingCentral MVP's HD quality web, audio, and video capabilities are available in one seamless experience. This includes a range of telepresence features like one-click functionality and webinar capabilities.
FREE VoIP Quote in minutes!

Just a few more questions...

Let's get your name right.

We are preparing your quotes.
Get FREE VoIP Quote in minutes! Fill the details below
Just a few more questions...