Starting Price
$27.99 USD/month/Monthly/User
Pricing Details
Talk to sales at: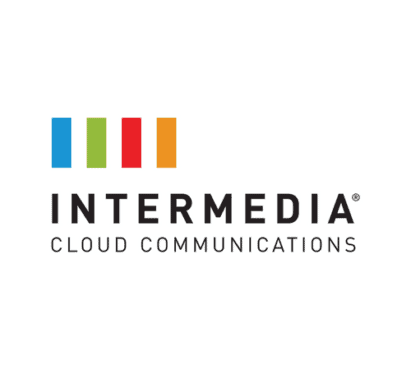 Intermedia Cloud Communications Reviews
About Intermedia
Intermedia is a cloud communications company that assists businesses to connect with voice, video conferencing, chat, call centres, business email, productivity, file sharing, backup, security, storage, and more from anywhere, anytime.
Intermedia VoIP System Features
Intermedia Unite
PBX Phone System
Call Analytics
Desktop App
Mobile App for business
Video conferencing
Conference rooms
Team chat
Screen share
Virtual voicemail
Online faxing
File backup and collaboration
Bring your own phone(BYOP)
Business Integrations
Microsoft teams
Call centre features
Automated Attendant
Connected Conference Rooms
Workspaces
Zoom events
Answers and routes call 24/7.
Customized calendars for specialized routing according to business hours, holidays, special events, etc.
Supervisor in-call assistance
Monitor - listen to live calls.
Whisper - assist an agent without the customer hearing.
Barge - join a live call as a participant.
Tracking and Analytics
Agent/Group Activity Reporting
Current Agent and Queue Status
Real-time Call Statistics
Intermedia business phone plans and pricing
Unite Pro - $27.99 USD/month
Mobile apps
Desktop app
Unlimited calling
Auto Attendant
Call Pickup
Caller ID
Call transfer, Call Hold, 3-way calling, Music on hold
Paging
Call park/Pickup
Intercom
SPAM Call blocking/tagging
911 admin notification
Voicemail
Voicemail transcription
Call recording
Receptionist mode
Web fax
Collaboration
Presence detection
Team messaging
Business SMS
File backup, sync, and share
Video meetings and conferencing
HD video and audio conferencing
Screen sharing
Meeting transcription
Unlimited recordings
Screen annotation
Transcriptions & meeting insights
Unite Enterprise - $32.99 USD/month
Unite pro features
Exchange mailbox
Supervisor functions (Monitor, whisper, barge)
Pros
Email hosting with Office365 Apps
Features for video conferencing
Software integration options
Cons
The Unite plans offer unlimited calls and messages, but this is based on a fair use policy which is essentially average usage across all their business customers.
It also prohibits excessive calling due to auto dialing, message blasting, and certain telemarketing activities.
A couple of features require additional monthly fees.
Editorial Verdict
Intermedia features a unified communications system with a cloud-hosted PBX phone system, file management, video conferencing, chat, and screen sharing. Email hosting is also offered with Office365 applications.
FREE VoIP Quote in minutes!

Just a few more questions...

Let's get your name right.

We are preparing your quotes.
Get FREE VoIP Quote in minutes! Fill the details below
Just a few more questions...