Why does Internet Service Provider Push for Phone Services?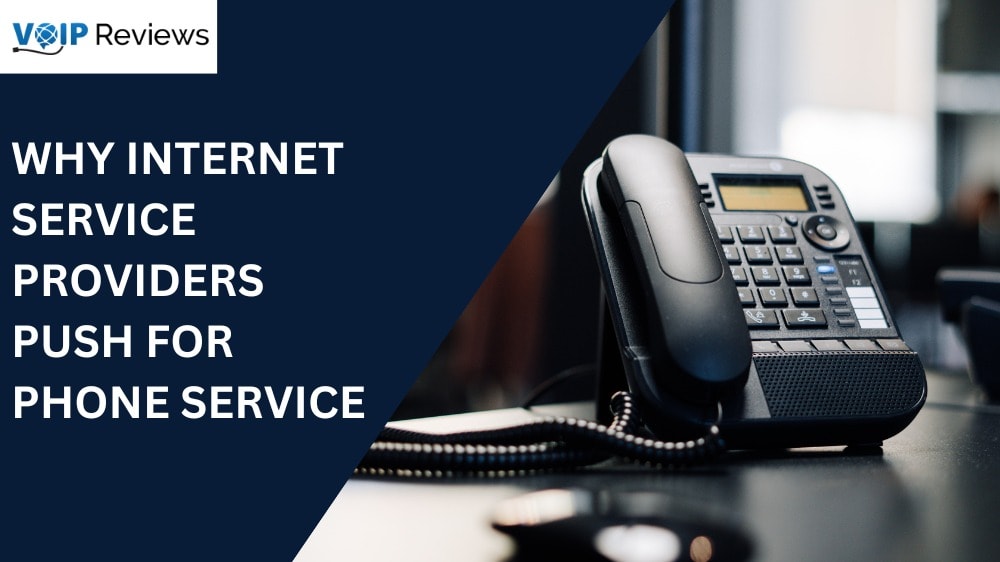 When you get services from ISP (Internet Service Providers), they push you for phone services, and there are many reasons for this. However, the main reason is the discount you get with bundles and additional features that you don't usually get in other services.
When you connect your internet service to a landline, mobile, or TV service, you get discounts on the Internet and other services. However, if there is no discount, there are many allowances that you can get only with the bundled services.
The demand for landline services is deficient now due to modern cellular connectivity. However, many people are getting landline services.
You don't get all-in-one when it comes to communication services. You are always missing something, and you may not be aware of what you lose due to a lack of knowledge of the product/service, or you have no idea of ​​the competitors in the market. To make up for that, companies offer bundle deals so that customers can get something a little fancy.
In addition, you need to know your usage. Each service has its advantages and disadvantages. Any service can be perfect according to your needs.
We live in a whole new world where everything is connected to the Internet, with many ISPs offering VoIP services. Even if you check the phone service companies, they provide landline services to their customers through VoIP technology. VoIP phone service allows users to enjoy unlimited local and long-distance calls without data restrictions and calling features.
What is VoIP?
Voice over Internet Protocol is the latest technology used by Internet service providers to make voice calls using an Internet connection. As a result, you no longer need to use a phone line to get landline services.
The VoIP system will convert analog audio signals to digital signals over an Internet connection. With VoIP service, data is transmitted digitally without being sent to the analog phone line.
Advantages of VoIP Systems for Businesses
Here are the top benefits of owning a corporate VoIP phone system.
Voice over IP is the newest form of business telephony. This feature explores the main advantages of VoIP phone systems for your business.
Low cost
VoIP is a low-cost alternative to traditional telephone systems. VoIP uses your Internet / Broadband connection for managing your phone calls. So, it can significantly reduce your business operating costs by eliminating the need for multiple personal phone lines.
You can integrate VoIP with calling bundles. It gives you value for money and helps you reduce your business call costs.
High connection quality
Since VoIP uses your internet connection, it offers higher call quality than other options. In addition, the VoIP phone system provides its users with a high-fidelity voice utilizing an Internet connection, with fantastic clarity and crystal clear sound.
Flexibility
VoIP is incredibly flexible. VoIP can be tailored to the specific needs of your business – tailored just for you. This flexibility means it's easy to build a VoIP phone system that meets the telephony needs of your business. Your bandwidth is the only limitation – this means you can theoretically add thousands of users.
Reliable
VoIP phone systems are very reliable. VoIP has been evolving over the years with apps. VoIP is accepted by many companies worldwide and is constantly changing – it has become one of the most reliable telephony technologies.
Scalable
The advantage of VoIP is scalability. Since the VoIP phone system uses the Internet to make calls, adding new users is easy. You don't have to add new lines; add phones and licenses. This advantage can extend VoIP to meet your current and future needs.
Portability
Portability is essential for many businesses. One of the advantages of the VoIP phone system is that it enables businesses to be as mobile and portable as possible. Using a VoIP network allows mobile and office users to connect to your telephone system.
VoIP portability is ideal for businesses with employees on the road or has workers from home – they can connect directly to your VoIP phone system using your VoIP network.
Future protection
Another advantage of VoIP is that it provides future protection for your business. By replacing your company's phone system with a VoIP phone system, you can ensure that your phone is updated and there is no risk of redundancy.
This future audit also protects your business investment. When upgrading to a VoIP phone system, you can be sure that you are using the latest telephony standards; your investment is protected for the foreseeable future.