6 Best Virtual Phone Service Providers in Canada [2022]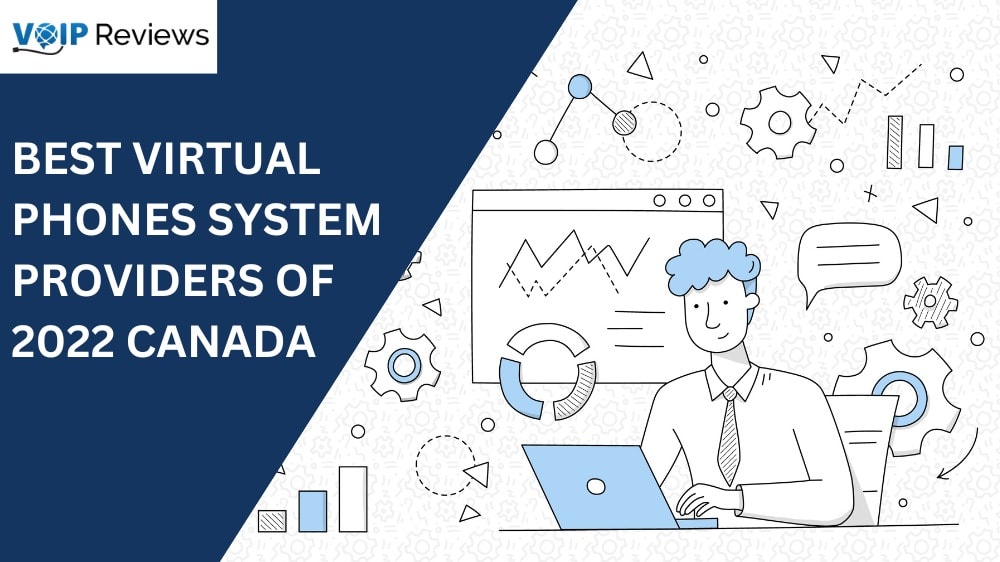 Switching to a virtual phone system will save about 65% of the cost of your existing communications. Still, it will also provide customers with a higher level of customer support, increase office productivity by about 20%, and reduce miscommunication. 
Virtual Phone Service Providers In Canada:
Intratel's VoIP telephone lines for businesses leverage telephone and Internet technologies to deliver enterprise-class features to small and medium-sized enterprises.

Pricing $19.95-$39.95 /user/month
Mostly remote teams with 100 employees are under that primarily communicate via telephone

Pricing:

$19.99-$49.99/user per month
3. Dial Pad
New companies or startups that prioritize low-cost virtual telephony options.

Pricing: $15.00-$25.00/user per month
Provides business phone systems and unified communications solutions for small, medium, and enterprise businesses

Pricing: $29.99-$49.99/user/month
Provides virtual phone systems for all business sizes

Pricing: $29.95-$34.95/user/month
Callture's phone services best cater to growing businesses
Plans starting from $26.50/user/month
What is a virtual phone system?
Virtual Phone System uses cloud-based technology that makes and receives calls via an Internet connection and cloud-based PBX instead of the traditional landline copper wires.
A virtual phone system means users can make calls to multiple devices on a desktop computer with a softphone interface, a mobile app, or a laptop.
You can send incoming calls to multiple phone numbers to avoid missed calls and for more flexibility. Also, you can manage outgoing calls more efficiently because of integrating reliable CRM systems and adjustable calling speeds.
A virtual phone system requires much less hardware than traditional business phone numbers and can be set up quickly online – often in less than a day.
Some companies may have separate phone numbers for different departments; usually, each team member or department member can be contacted by extension code.
So, employees can protect their cell phone or home number by giving customers their virtual phone numbers instead of personal numbers.
How does a virtual phone service work?
Traditional phone numbers only connect to one phone line. 
Virtual telephone systems are not limited to specific devices, lines, or physical locations because they work using Voice over Internet Protocol (VoIP). 
An endpoint connection is established between the caller and callee when a call is executed to a virtual network. Audio data is then broken down into packets, allowing data to be transmitted from the Internet to another line. Once this data packet reaches the desired recipient, it is converted back into audio data.
On-demand, digital phone numbers can make calls to traditional analog phones, cell phones, smartphones, and desktops.
The caller no longer needs to disconnect and redial other numbers to reach the desired party. Cloud-based phone systems can forward calls to multiple devices in a customizable order.
The virtual phone system call path might look like this:
Incoming calls to virtual numbers → Office landlines → Desktop computers → Business mobile phones → Personal smartphones → Voice mailbox or coworker phone numbers
What are the advantages of a virtual phone system?
There are many advantages to providing a virtual phone system over a traditional phone.
First, these systems are highly scalable, meaning companies can start with basic VoIP phone service and gradually add new features or add users as needed.
Therefore, virtual phone systems for small business are not only designed for business-specific needs, but users will also avoid paying for features they don't need.
In addition, users can add multiple communication channels to their default communication platform, such as video calls, online faxes, or SMS – which would be impossible to connect with regular old telephone service. All conversations are automatically synchronized to the channel and device to avoid loss of essential information.
Key Features of a Virtual Business Phone System
Business numbers on virtual business phone systems allow employees to make and receive unlimited calls to their favorite devices. Standard VoIP features and functions include:
Basic call management features

IVR

Call queue and automatic callback

Visual voicemail

Video conference call

Team Collaboration Tools

Business SMS

Call recording

Business Phone Analysis

Third-party integration
How can you know if you need a virtual phone system?
It's time to consider switching to a virtual phone system if:
If your business has many remote employees, your team members are often away from their desks on business or sales trips, client meetings, or service calls.

You use many professional communication tools and get bored of constantly moving from one platform to another during a call. Virtual phone systems provide a high level of integration with third-party software like CRM tools, allowing you to view all the necessary information in a single dashboard.

Your daily call volume has exceeded the number of available proxies or has grown exponentially in the last few months. A promising sign of an increase in missed business calls or voicemails is experienced.

An increase in business or number of employees has increased your communication costs.

You have just opened a new site or are interested in expanding your business to multiple sites. Virtual phone systems make it easier for team members working in various locations – and remote employees – to communicate with each other. It also reduces customer support solution time, as customers can reach the representative faster.